AxMasterŽ is a full-featured guitar fretboard diagram creation tool, as well as a platform for integrated HTML-based guitar lessons. It features automated pattern display, custom diagram creation and editing, and HTML-based interactive lessons, as well as a musical glossary and introduction to music theory.
The latest version of AxMaster is 2.2.4515, available on the downloads page. A full list of enhancements and changes can be viewed here, or check out the screen shots page for pictures of the software.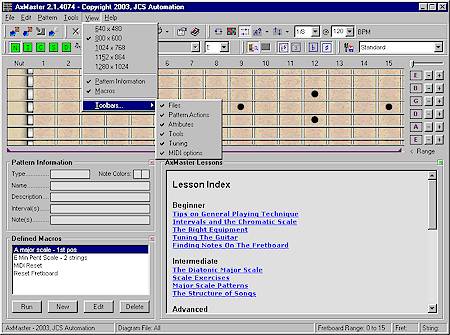 Program Features
AxMaster offers several features to assist people in learning the guitar, as well as tools for instructors and guitar site webmasters.
Full-featured 24-fret display of Notes, Scales, Chords, Intervals, and Custom Diagrams
Fretboard displays can be saved as standard bitmap or jpeg images for use in other applications, with options for saving fret and/or string labels in any color combination.
Full MIDI implementation for playing patterns, with options such as looping, strum/legato/staccato, picking direction, play highest notes only, tempo, and more
Simultaneous display of multiple patterns for easy comparisons
Choice of fretboard types and control over all program colors
Fretboard range can be set for both frets and strings. Show patterns on only the frets and strings desired
Includes an introduction to music theory and musical glossary
Fully interactive lessons; lessons are displayed in a separate window, and embedded links can drive any combination of commands to generate real-time displays of related lesson information
User-defined fretboard backgrounds and overlays can be created and loaded
Supports any tunings, as well as individually adjustable string tuning
Easily expandable to provide new Chords and Scales
Ear and Fretboard training
AxMaster 2.1 contains an updated interface and many new enhancements, including the following:
Completely redesigned interface, including customizable toolbars, dockable Advisor window, and support for different screen resolutions. An option has also been added to the program preferences (Misc tab) to keep floating windows on top.
A Tip-Of-The-Day dialog has been added, that provides tips for using the software.
The Glossary has been greatly expanded, and many new chord definitions have been added.
Lessons are now categorized (Beginner, Intermediate, Advanced, and Miscellaneous). Several new lessons have also been added.
The Ear and Fretboard training tool has been replaced with a much more usable Note Recognition tool and an Interval Training tool. Note recognition progress is tracked, and can be viewed in a variety of ways.
A new Chord Decoder tool has been added, with several options for finding chords based on selected notes. Chords can be searched based on the order of the notes as entered, inversions, or in any combination. Notes can be selected by buttons, typed in directly, or selected from the fretboard with shift + left-click.
Macros (previously called scripting and only available in the lessons) can now be easily created and edited to simplify complex or repetitive sequences of commands. The actual macro command string is also displayed, which can be copied and pasted into custom lesson content.
Diagram definitions are now divided into categorized files, and the management of these files has been greatly simplified. AxMaster automatically loads all diagram files when the software is started. Individual files can be loaded for editing or for viewing a specific subset of Diagrams. Exchanging custom diagrams is now just a matter of dropping the new file into the Diagrams folder.
An option has been added to the preferences (Diagrams tab) to reset the strings and fret range when a Diagram is viewed.
MIDI functionality has been enhanced to provide smoother playback. In addition, a new MIDI toolbar has been created; common MIDI options can now be changed on-the-fly from the main screen, even while a pattern is playing.
When two patterns are visible, you can now display notes that are common to both patterns, notes that are not common to both patterns, or notes that exist in only one of the patterns.